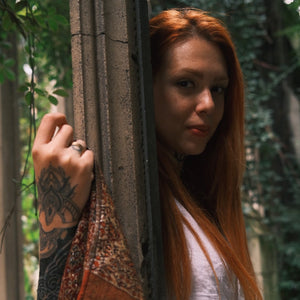 BY APPOINTMENT - PLEASE CALL IN TO THE STORE OR EMAIL TO BOOK A READING
A birth or natal chart is essentially a map of where all the planets were located at the exact moment you were born. An analysis of this chart can provide a deep insight into your personality, motivations, desires, your potential problem areas and how this information can be applied to enrich your life. It includes houses, placements, aspects and an explanation as to what they all mean, for your chart and for you. ‍ This is a full birth chart reading. This reading will include all your planets in your chart, as well as your houses and your personal life path.

Jessica uses her background in analytical psychology with the therapeutic, archetypal and symbolic aspects of Astrology and Tarot. Her training in Jungian psychology brings a touch of healing and self-discovery to her readings. Working together in the session, Jessica will guide you through different aspects of your zodiac chart, helping you to dive deeper into your unique traits, unlocking qualities and hidden treasures that are necessary for your next steps in life.

Full birth chart reading
Including planets in your chart, houses and personal life path
Please allow 4 days from time of booking before your session date so that your chart can be prepared.
About Jess:- She has studied astrology for 20 years, specialising in Archetypal Astrology, and Transits Forecasting. She has a BSc in Psychology and is a Trained Jungian Analyst (SAP). She is currently doing an MSc in Spirituality, Consciousness and Transpersonal Psychology at Liverpool John Moores University along with a Clinical Jungian Practice at the Jungian Institute in Lisbon.