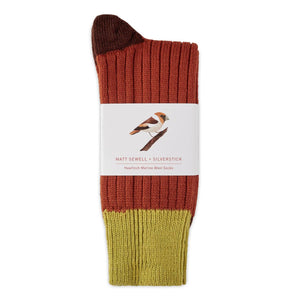 Support our endangered birds with these hawfinch merino wool socks. Part of our Matt Sewell + Silverstick collection. The colours of these socks are inspired by Matt's painting of the Hawfinch, an endangered bird on the UK's red list.
10% of sales from this product go to Wildcard, a grassroots environmental conservation organization focusing on rewilding Britain.
90% merino wool / 10% nylon
Midweight double rib knit Matt Sewell + Silverstick print underfoot
Recommended washed at 30° and hung dry. 
These socks are made in Britain using traditional methods and high-quality merino wool yarns.
Õko-Tex Standard 100 and ISO 17050-1, the wool is colored using azo and chlorine-free textile dye.