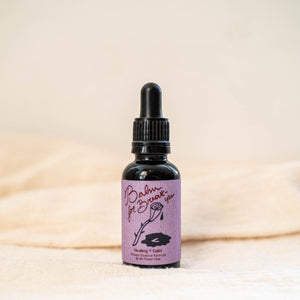 Balm For Breakups has been specially designed to overcome the sadness and loneliness that might come after a break up. It acts as a balm for heart-breaks and hopeless feelings, helping you overcome the remembrance of the past times and inviting you to gently move forward.
It brings hope during dark times.
Benefits:

- Energetic and emotional cleanser
- Releases sadness
- Awareness about your actual needs/self-preservation
- Brings you back to the present when you remember past times
- Restores faith
If you feel:
Sad, lost, lonely or fragile

Longing for someone that's gone

You're struggling to overcome a breakup

You are alone

Be Flower Now flower essences are an amulet, a gentle reminder from nature, that we are part of an environment, that we are not alone. Made by Bel and Sara at their studio in East London, sourcing these flowers from local flora and local producers in the UK. Each formula contains different flowers designed to ease a range of emotional, energetically and mental blockages. BFN essences always bring us back to the ground and aligned with the world around us.


HOW TO PICK YOUR BLEND:
Pick the combination that most relates to your feelings and energetic/emotional state right here right now. Flower essences work by layers so it is important to not hurry the process: they act from this moment, preparing ourselves for what is next. You don't need to agree with all the symptoms shown, but if you do resonate with some of them, the formula will be effective.  An inappropriate essence will not hurt or cause adverse reaction.
HOW TO DRINK YOUR PETALS
* Take 4 drops, 4 times a day under the tongue.
* 1 bottle is a 1 month supply if taken as directed. 
* Indications are also on the label.


INGREDIENTS

60% spring water, 40% organic locally-sourced vodka (18.75% adv), energy imprint of a combination of flower essences (check label for specific ingredients)


CUSTOMER CARE

BE FLOWER NOW tinctures are not made by medical professionals, and they are not for medical use. The information provided on this website is for informational purposes only. You should always speak with a healthcare professional before taking any dietary, nutritional, herbal or homoeopathic supplement, including the flower essence products included on this site. It is not intended to be substituted for the advice provided by your health care professional.

You must only take the recommended dosage as specified on any instructions provided with the products and take sensible precautions before using any of the products, such as consulting with a healthcare professional if necessary. Some products may contain a small percentage of alcohol and should not be consumed by children. To use this service you must be over 18 years old.