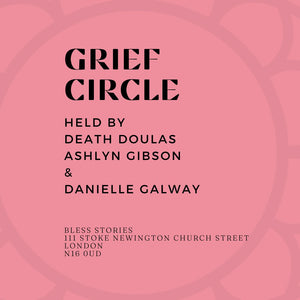 Death Doulas Ashlyn Gibson and Danielle Galway will be holding a monthly Grief Circle. This is a monthly drop in but we hope you are most welcome to join us regularly.  
If you have a lost a loved one - a family member, a friend or pet, experienced baby loss or are grieving an ending you are welcome.  This is a space for you whether this is recent or something from the past.

This in an opportunity to share and be heard, or simply sit in silence and witness others, in community. 
Upcoming dates:
10.30-12.30 Sunday 10 September, 1 October, November date tbc.
To book this experience for a corporate event or private group please email hello@blessstories.com.