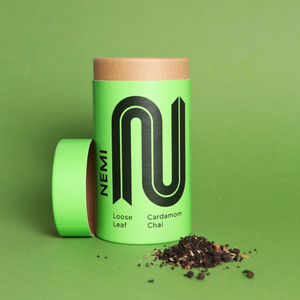 An exquisite choice of the finest-quality loose whole leaf Assam black tea expertly blended and enhanced with the exotic flavour of aromatic cardamom, pungent peppercorn and fragrant cloves.
We have also captured the true flavour of this soothing cardamom blend in biodegradable tea pyramids for a truly distinctive Chai experience.
BREWING INSTRUCTIONS
Loose Leaf
Easy way: Place a tea spoon per person into a tea cup, add freshly drawn boiling water and brew for five minutes. Add milk and sugar according to taste.
Mum's way: Put four teaspoons of the blend into half a litre of boiling water and let boil for five minutes. Add 250ml of milk and sweeten with sugar. If you prefer honey, add it at the very end. Bring to a boil again and then take off heat and let sit for five minutes. Pour through a strainer and serve four cups of epic cardamom chai.
Ingredients
125g loose tea
Fairtrade Assam black tea, green cardamom pods, peppercorn and cloves.