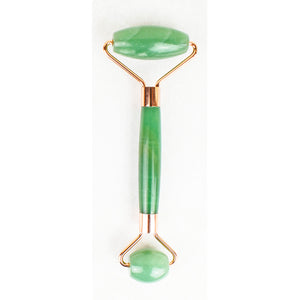 Using a Facial Roller once or twice a day (usually in the morning when getting ready, and before bed) can have many benefits for your skin. It can be used by itself, or in conjunction with your daily skincare routine to help spread product over your skin such as facial oil, or moisturizer. The larger roller can be used for your cheeks, forehead and neck, whilst the smaller roller on the end can be used for those harder to reach places such as under your eyes, your nose or your t-zone. 

Benefits of using a facial roller include: Improved blood circulation in the face, decreased puffiness such as under the eyes, a cooling and soothing experience of the skin, and even distribution of product when using alongside skincare products. It can also feel pretty relaxing! 
14.5cm x 5.8 cm (at the widest point).
Packaged in a Bless natural cotton drawstring bag.