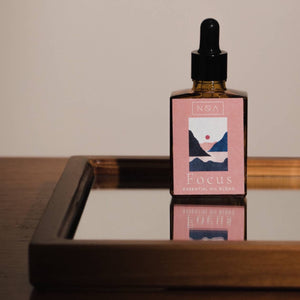 Transform your mood and space with an essential oil bend from Manchester based NOA.
Choose the zesty and uplifting Focus blend to be clear headed, to see clearly.

Basil, Bergamot, Grapefruit and Lemon Essential Oils.
30ml and are presented in a luxury amber glass apothecary bottles.
This blend has been created to use in a diffuser and not for contact on the skin.
Artwork in collaboration with a local artist called Jade (JCW creative)
Each blend has been lovingly illustrated by Jade to visually display the mood of the blend, the auras and colour palette vary between blends to emphasise the mood for each.