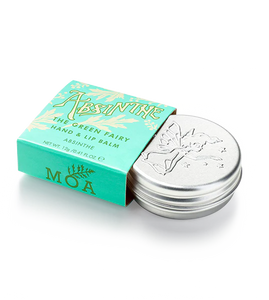 Summon the spirit of The Green Fairy with this dual-purpose salvation balm, a non-greasy formula to soften dry cuticles, hands and lips. Caster oil, shea and cocoa butter provide a silky-smooth moisturising base to soothe and condition, candelilla wax provides a nourishing, protective coating, whilst stevia leaves a subtle, sweet taste on the lips. With yarrow extract and a magical blend of essential oils including, brightening grapefruit and lemon peel and aromatic peppermint, fennel and aniseed. 
Vegan and cruelty free.
HOW TO USE:

Keep this tin of salvation handy and apply sparingly to thirsty hands and lips in need of a little extra care and protection.  Use to soften cuticles and ideal for prepping the lips before applying lipstick. Vegan friendly.
INGREDIENTS:
Butyrospermum Parkii (Shea) Butter, Olea Europaea (Olive) Fruit Oil, Theobroma Cacao (Cocoa) Butter, Euphorbia Cerifera (Candelilla) Wax, Ricinus Communis (Castor) Seed Oil, *Helianthus Annuus (Sunflower) Seed Oil, Alcohol, Stevia Rebaudiana Extract, Citrus Limonum (Lemon) Peel Oil, Foeniculum Vulgare (Fennel) Oil, Citrus Grandis (Grapefruit) Peel Oil, Mentha Piperita (Peppermint) Leaf Oil, Pimpinella Anisum (Anise) Seed Oil, Absinthe Extract, *Achillea Millefolium (Yarrow) Extract, **Citral, **Limonene.
*certified organic **occurs naturally in essential oils
Made with certified organic ingredients
No petrochemicals, SLS or artificial preservatives
Vegan and cruelty free
ABSINTHE EXTRACT referred in historical literature as "la fée verte" (the green fairy), this anise-flavoured botanical spirit is derived from the flowers and leaves of wormwood, anise and fennel. It rose to popularity as an alcoholic drink in late 19th and early 20th century France, particularly among Parisian artists and writers. Absinthe has often been portrayed as a psychoactive hallucinogen, but the truth of this remains a mystery. Wormwood (Artemisia absinthium) is highly antibacterial and anti-fungal and shows antioxidant properties too.
ANISEED is one of the oldest known plants grown as a culinary spice and for medicinal use in ancient Egypt and Greece. Belonging to the same family as parsley and fennel it has a sweet characteristic scent. A natural insect repellent and powerful antioxidant.
SHEA BUTTER has been used on the African continent for thousands of years and renowned for its skin healing, hydrating and smoothing qualities, rich in essential fatty acids and antioxidants, A and E. Shea butter also contains cinnamic acid, which could help to protect the skin against UV damage.
COCOA BUTTER is an emollient, adding a protective layer of hydration and helpful for blocking the effects of cold weather or sun damage. Rich in essential fatty acids and vitamins E and K which help to repair and soothe.
CANDELILLA WAX  a vegan alternative to beeswax, derived from the waxy leaves of Candelilla shrubs. It provides a long lasting protective barrier.
LEMON PEEL AND GRAPEFRUIT ESSENTIAL OIL anti-oxidant, antibacterial and made up of natural fruit acids which help to exfoliate dead skin and promote smoother, healthier and brighter skin.