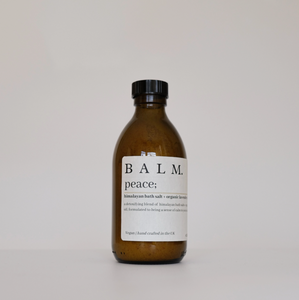 A detoxifying blend of Himalayan bath salts + organic lavender oil, formulated to bring a sense of calm to your soak.  A PEACE ionic salt bath will support relaxation, detoxification, re-mineralisation of the body + restful sleep. 
Directions:- Add a generous amount to a warm bath. If Skin irritation occurs, discontinue use. 
A tree is planted with every PEACE Bath salts sold. 
Ingredients:- Pink Himalayan rock salt, Prunus amydalus dulcet oil (sweet almond), Vitamin A, E, B1, B2. Lavandula anguvstifolia oil (Lavender), Linalol, Linalyl acetate, Lavandulol, Lavandulyl acetate, Terineol, Limonene, Carophyllene. 
Proudly Vegan and Organic.
Hand crafted in UK.
250ml