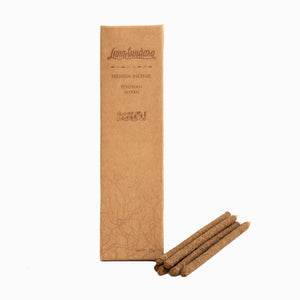 Hand rolled incense created to enhance a meditative state.  These incredibly aromatic Peruvian myrrh incense sticks are made by Peruvian artisans. and made with 100% natural ingredients including ground high resin Peruvian myrrh and natural binding gum from various species of the Acacia tree. Peruvian myrrh emits a warm, earthy, and woody fragrance with slight balsamic undertones. 
To use, light the tip of the stick and allow the wood to burn for under a minute before blowing out the flame. Relight as needed. 
100% natural ingredients

Contains 6 incense sticks

burn time of 90 minutes

sustainably harvested in Peru.

made by artisans who employ ethical, fair trade, and sustainable practices.