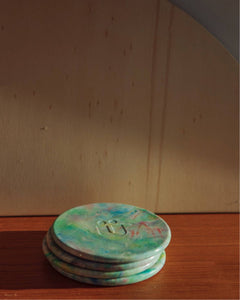 Set of 4 Coasters, made from 100% recycled plastic.
These coasters are made by Müll from recycled yoghurt pots, cleaning product tubs, plastic syringes, cd cases, bottle tops, clear takeaway food containers and everything in between. All plastics used were collected and hand-delivered by the local community in South East London, further minimising the carbon footprint of the community's waste. Every purchase supports Müll's mission to recycle directly from the community, within the community. Reducing the mileage from waste, ensuring it doesn't join the 2/3 of plastic that is shipped overseas.
Due to the nature of the recycling process every coaster will be slightly different, but the sets are picked to be as similar as possible.