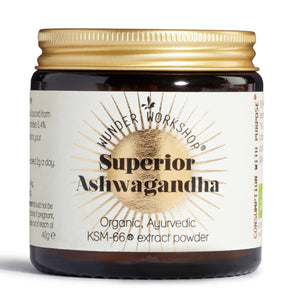 Superior Ashwagandha is the most bioavailable, full-spectrum root extract of Withania somnifera. This Ayurvedic adaptogen herb is traditionally used to balance the body, both physiologically and psychologically. Known as the "Prince of Herbs" in Ayurveda, ashwagandha's wide-ranging uses make this an excellent herb for vitality and general health.
Ingredients: 100% Ashwagandha root KSM-66® extract (Withania somnifera)*. *Organically certified.
Preparation: add 1/2 tsp (500mg) of the powder to hot water, coffee, tea, smoothie or tonic.
Servings: approx. 80 x 500mg servings per jar.