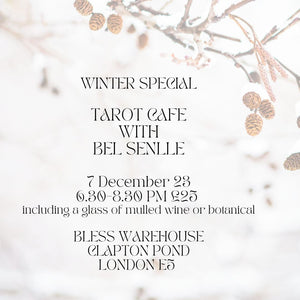 PLEASE NOTE THIS WILL BE HELD AT THE BLESS WAREHOUSE IN E5
To celebrate the end of another wonderful year of the Tarot Cafe we are opening up the Bless Warehouse for a festive Tarot Cafe under the tree with Bel Senlle.
The evening moves with the conversation and energy of the group as we share our knowledge and to learn from one another. The Tarot Cafe is a great opportunity to experiment with new spreads and Tarot decks. Through sharing and practice we can interpret and utilise the information presented in a deep and meaningful way. 
Tickets include a glass of mulled wine or mulled botanical.
Tickets are non refundable, non transferable.
Bring your own cards or use our decks at Bless.
Bless Warehouse is 2 mins from Clapton Pond. The full address will be sent upon booking.
Suitable for beginners to well versed readers.
Evening Sessions 1830-2030