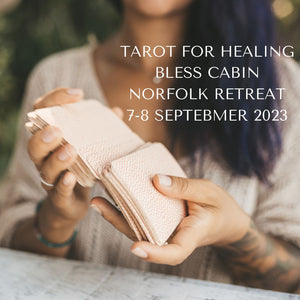 YOU CAN FIND OUR RETREAT BROCHURE HERE
A 2 day tarot retreat with founder Ashlyn Gibson and Nix Palomba at the Bless Cabin in Norfolk. Immerse yourself in the forest scape and lakeside views of our cabin just 2 hours by train from Kings Cross. 
SPECIAL BONUS You will be offered a bonus 45 minute 121 tarot reading with Nix worth £70. The readings will be given at the Bless Sanctuary in Stoke Newington on a date after the retreat.
We offer discovery calls or a face to face to chat through any of our experiences. Reach out via the store, phone or email hello@blessstories.com.