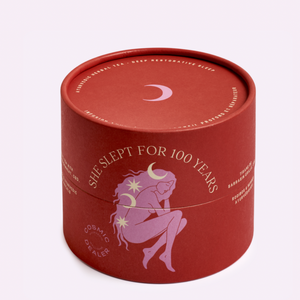 An Ayruvedic infusion for deep restorative sleep.  The graphics and colour palette of all of the packaging from Cosmic Dealer make their products unique and beautiful gifts.  Reuse the stunning box as a container for all sorts of treasures.
Toasty buckwheat (grown and roasted in Brittany) gives the body a warm embrace, coaxing it into relaxation with subtle notes of caramel.
Ayurvedic herbs (Lemon Balm, like cinnamon, star anise and fennel) seduce the mind into a deep slumber.
 Ingredients: roasted buckwheat,* green rooibos,* red rooibos,* Lemon Balm, *Matricaria, * cinnamon,* star anise,* fennel fruit *From Organic farming 115g
Made in France / organic / natural / vegan / no artificial flavours / no additives⁠
Divided into 2 sides the container has grains on one side and tea on the other so you can perfect your own perfect blend.
Take a teaspoon of each from each side of the box to make your tea. Or dose as you desire: it's your potion to play with.