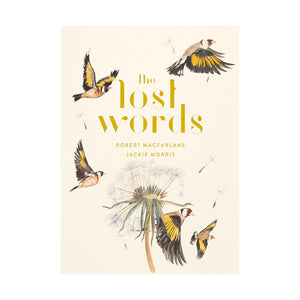 All over the country, there are words disappearing from children's lives. Words like Dandelion, Otter, Bramble, Acorn and Lark represent the natural world of childhood, a rich landscape of discovery and imagination that is fading from children's minds.

The Lost Words stands against the disappearance of wild childhood. It is a joyful celebration of the poetry of nature words and the living glory of our distinctive, British countryside. With acrostic spell-poems by peerless wordsmith Robert Macfarlane this enchanting audiobook captures the irreplaceable magic of language and nature for all ages.

Across a rich and vivid natural soundscape, Edith Bowman, Guy Garvey, Cerys Matthews and Benjamin Zephaniah, iconic voices of modern Britain, bring the magic of nature and language to listeners. Through captivating readings, wonderful natural recordings and more, the audio edition of The Lost Words is a stunning celebration of the nature and the power of language.