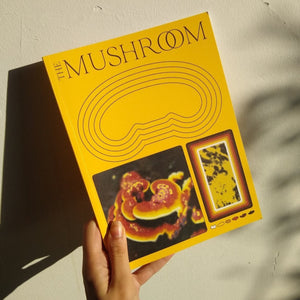 The Mushroom has been created by a team passionate about all things mycological. A beautiful, critical and informative print space for mushroom enthusiasts. Bringing together essays, interviews, clinical reports, photography, illustration, research round-ups and more, each issue is designed to be a unique object and a valuable addition to any mycophile's library.
The Mushroom is published by Mycology Press as a not-for-profit undertaking with all profits donated to charities, especially those using mushrooms to uplift, empower and address some of the challenges we face at this time.
Volume 1 features:-
Interviews with Chido Govera and Roger Phillips - Research on treating recurrent miscarriage with mushrooms with Dr Trevor Wing - Attila Fodi investigates whether mushrooms are affected by the moon - A look at the popularity of mushroom accounts on social media with Sukayna Powell - Photography from the 2020 Transylvania Mushroom Festival by Judit Koszegine Toth - An essay on reishi by Martin Powell - and our biannual Research Round Up.