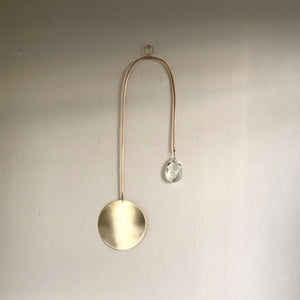 A unique beautifully crafted ornament for your home featuring a brass disc that symbolises the full moon or the rising sun. Hang it in a window and look for rainbows in your home. Made by female artisans from hand cut and hammered brass with a vintage glass crystal.
Please be aware that raw brass naturally tarnishes over time; a paste of baking soda and lemon juice applied with a cloth will shine it back up in no time

This is a wall hanging for decorative purposes; not intended for use as a wind chime

Not recommended for outdoor use
20" tall x 8" wide.