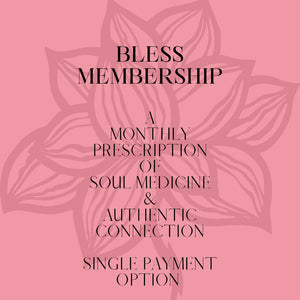 Chose from our single payment option £488.84 or subscribe to monthly payments of £44.44
Satisfy your curiosity, make yourself a priority and connect with our soulful and authentic Bless family. With a Bless Membership we aim to make our events more attainable and offer lots of complimentary extras. With monthly payments you can spread out the cost of the things you would like to join as well as being invited to member only events.

We have a wide range of unique in-person events at Bless from 1:1 sessions in the Bless Sanctuary to workshops and after hours intimate group sessions as well as gatherings and day retreats at the Bless Warehouse in E5.
If you would like to know more get in touch to book a 15 minute discovery call or face to face.
MEMBERSHIP INCLUDES:-
1:1 Welcome
A 45 minute 1:1 session with Bless founder Ashlyn, her deck of Inner Compass Cards and beautiful welcome ritual in the Bless Sanctuary. Ashlyn has devised a Bless Brief to help you focus on and share your hopes, goals and struggles. Our aim is to support you on your journey, make recommendations and continue to curate a programme that addresses the individual and collective needs of our members. 
1 x Bless Warehouse Event
Bless Warehouse Supper 17 June 2023  in our unique venue Clapton Laundry (Bless Warehouse) in E5. 
1 x 1:1 Session
Tarot Reading ~ Bel Senlle OR Tarot for Healing ~ Nix Palomba 
OR
Astrology Session ~ Jessica Rosset OR Sound & Energy Cleanse ~ Rebecca Fletcher
3 x Bless Intimate SessionsChoose 3 'Bless Intimate' sessions of your choice (examples below - we will add to this list over the duration of the next 12 months)
Breathwork ~ Stephen Ebbers
Sound & Energy Clearing Circle ~ Rebecca Fletcher
Yoga Nidra ~ Danielle Galway

Members Gatherings
You will be invited to 4 exclusive member only inspirational evenings at Bless. Ashlyn will host a Q&A with a special guest to explore their journey and their work. 
Sept ~ Danielle and Ashlyn talk about their work as Death Doulas and the growing popularity and importance of the Death Cafe movement.
Dec ~  Rebecca Fletcher brings sound vibration and joy to a Christmas shopping special.
2024 programme tbc
Bless Late Summer and Winter Gathering Invitations to our ticketed soulful events at the Clapton Laundry E5 (with a pay bar). 
Sharing Circle An evening invitation to join the Bless family once a month as a collective to share in each others journeys. 
Members Discounts

20% discount off private bookings at the Bless Cabin in Norfolk
10% off bespoke and Bless curated retreats at the Bless Cabin in Norfolk
20% discount off private Bless Intimate bookings (book a Bless Intimate session for you and your friends)
20% discount off Holistic Business Mentoring and Brand Honesty Sessions with Ashlyn
15% off in store purchases (items only - this offer doesn't include 1:1 sessions, Bless Intimates, gatherings or any other in person events.
INVESTMENT
£44.44 per month for a minimum of 12 months.
Make a single payment of £488.84 and save 1 months subscription. You can arrange this in store.