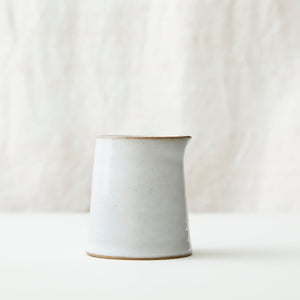 The Bhava glazed stoneware jug has a tapered minimalist shape and can multifunction as a milk jug, vase or toothbrush holder. Matching ceramics available.
Dimensions: L10xW8.5xD8.5cm.
Height is 10cm, base width is 8.5cm, top width is 7cm.
Capacity is approx. 250ml.
Care instructions: Safe to use in dishwasher (top shelf) and microwave.
Handmade near Bhaktapur, Nepal  by a family business run by two brothers, Santa and Laxmi.
Safe to use in dishwasher (top shelf) and microwave.
Each piece is unique, made by hand on the potter's wheel from a mix of local Nepalese clay. Any hand-carved details are added before each piece is dried in the sun, glazed and fired at high temperatures in large kilns. To maximise efficiency, not an inch of space is wasted in the kilns, which run for days at a time to maintain the heat. The high firing temperature makes our stoneware ceramics dishwasher and microwave safe, and surprisingly chip resistant. The richly coloured glazes used for our stoneware are sourced from North India.
The production is organised by a World Fair Trade Organisation certified collective in Kathmandu.