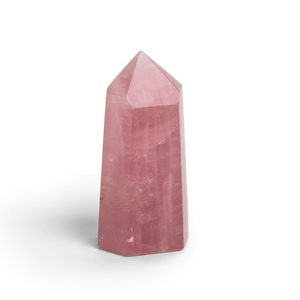 Heart Chakra
January Birth Stone
Rose Quartz is a wonderful stone to gift to a loved one or to ones self. It opens the heart to universal, unconditional and self love. Great for strengthening love or for enhancing a new romantic adventure. It encourages passion and intimacy. A wonderful calming and soothing crystal to have in your bedroom in encourages deep sleep.
Ethically sourced in Brazil
Each piece varies and many not be the actual piece in the photograph. Our crystals are sourced by hand for their high grade and quality. Each crystal will be cleansed and charged before being gift wrapping and sent to you. 
Disclaimer:- We are expressing our own personal thoughts about crystals. Crystals and crystal healing do not act as a medical substitute for a condition so please do consult your specialist or GP and only incorporate crystals as a complimentary part of your care. You may or may not experience any of the examples we have given so please approach your crystal buying with an open mind and be ready to experience them in a way that may well be unique to you.