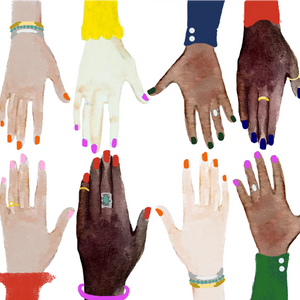 We love the message of Humanity an original watercolour by artist Carly Martin in 2017.
This original illustration (also available as a limited edition wall hanging or blanket) has been used widely in support of International Women's Day, the Women's March, World Refugee Day and as a promotional image to raise awareness for STILL WE RISE, the community based auction.  Since its creation, a portion of proceeds from the print have been donated to the ACLU, Emily's List, Planned Parenthood and SPLC. 
20 x 20 cm print of original watercolor painting
printed on 110 lb. archival paper. 

Made in United States of America