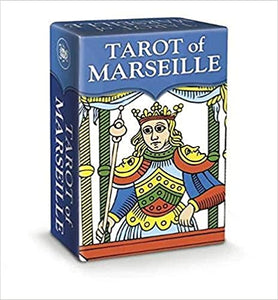 Tarot of Marseilla is the Tarot deck par excellence - the most famous and well-known of all. Essential but extraordinary, it is amazingly stimulating and loved by all those who require symbolic immediacy from the Tarot. It is able to infuse the mind with clear words in order to express profound and hidden truths.
Divination using tools such as Tarot Cards, help to bring higher guidance and advice into our lives and brings to the surface information that may be hidden or not immediately obvious to us.
Original Marseille Tarot deck - 78 illustrated cards. 
Cards measure approximately 6.6 x 12 cm (2.75 x 4.5 inches)