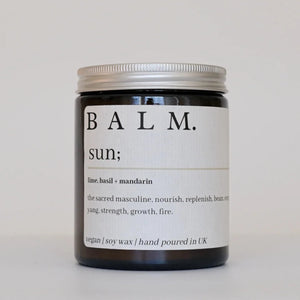 Lime, Basil + Mandarin 
The SUN candle has been formulated as an ode to life energy. Honouring the sacred masculine, nourishing, replenishing, yang, strength, growth + fire. 
Scent notes: Subtle/ light/ fruity. Top notes of lime + orange zest, heart of geranium + thyme and base notes of moss + patchouli. 
250g Natural vegan soy wax candle set in amber glass jar with aluminium lid.
Hand poured
40Hr Burning time.
Directions and candle safety
Always trim your wick to 5mm before lighting your candle to ensure you receive maximum burn time. When burning your candle for the first time, allow the wax to melt until it reaches the edges of your vessel before extinguishing. This will create a candle memory and clean and even burn. Never leave your candle burning longer than 4 hours at a time. Discontinue use when the wax reaches 1cm from the bottom of the vessel. After use when the wax has cooled and reset, trim your wick to 5mm again before relighting to avoid "mushrooming" the wick. 
Regenerate
Balm Wellness plant a tree with every SUN candle sold. 
Ingredients 
100% vegan soy wax, premium grade phthalate free vegan fragrance oils, natural fibre waxed cotton wick. 
Proudly
Vegan. Soy Wax. Hand poured in the UK.