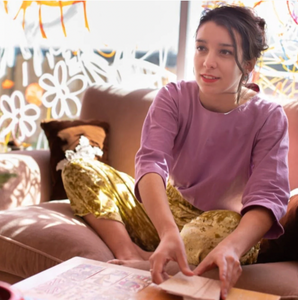 Tarot Storytelling is a fun, creative and intuitive workshop. 
Bel will guide the group into some simple and effective techniques for interpreting cards for each other collectively. We will notice how the stories we tell to ourselves are connected in some way, and we can use the inspiration that comes from those around us to use it as a personal guidance. 

This is a workshop for a group looking for an intimate experience and for a new connection to inner creativity. 
It is ideal for a social gathering or for a team looking for new ways to connect, to learn about each person's perspective and to get to know one another on a deeper level. This workshop makes a unique corporate or team building experience.
To make a booking or explore further please email hello@blessstories.com.

The session will last  1.30 to 2 hours according to how many people are attending. 

Please email hello@blessstories.com with details of your event and we will arrange a discovery call.