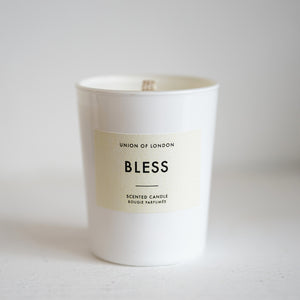 Our Bless signature candle has a luxurious oriental fragrance with a rich trace of orchid and spices. Hand poured soy with quality fragrances and essentials oils gives the candle a clean burn. The wide cotton wick creates a broad flame generating a generous scent through and an even pool of wax.
Top Notes I Jasmine, Gardenia, Blackcurrant, Lemon, Bergamot, Mandarin, Tuberose.
Heart Notes I Orchid, Spicy notes, Lotus Wood.
Base Notes I Vetiver, Patchouli, Sandalwood, Incense, Amber, Chocolate, Vanilla.
Weight: 75g, 2.6oz
Size: H6.5cm x W5.5cm
Material: Soy Wax
Burn Time: +18hrs
Care: Keep wick trimmed
Votive: Gloss white glass
Origin: UK
Free from: Petroleum, Phthalates & Preservatives