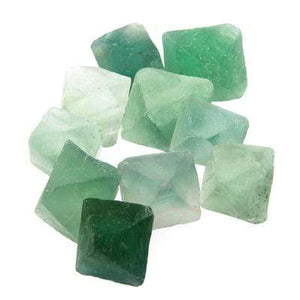 Heart Chakra
Green Fluorite may bring with it clarity and a sense of order. A strong stone it is said to help ease joint and bone pain so may benefit those with arthritis, rheumatoid arthritis, bone spurs, or other bone-related issues. Connecting well to the immune system is has been used to support colds, flu, immune disorders and stomach issues including digestive discomfort or an unbalanced gut. Use it as a tool to restore your spiritual balance to connect to a daily practice.
Approx size 3 x 3 x 3 cm
You may not receive the actual crystal in this photography but we hand select each of our crystals according to their grade. Before we send your crystal it will be cleansed and charged and gift wrapped.
Disclaimer:- We are expressing our own personal thoughts about crystals. Crystals and crystal healing do not act as a medical substitute for a condition so please do consult your specialist or GP and only incorporate crystals as a complimentary part of your care. You may or may not experience any of the examples we have given so please approach your crystal buying with an open mind and be ready to experience them in a way that may well be unique to you.